Chapter 13
Please keep these annotations SPOILER-FREE by not revealing information from later pages in the novel.

Page numbers refer to editions with 369 pages, where the story begins on page 1. Not sure if there are other editions with variant pagination. Please let us know otherwise.
Page 207
The vibes around Robbery-Homicide Division this morning
Morning, Tuesday, April 28, 1970.
Page 208
Code 7
Meal break.
Cielo Drive
Site of the Manson family murders. More here.
endless summer
The Endless Summer is one of the first and most famous surfing films. And let's not forget The Endless/Eternal Summer Surf Shop on the cover of Inherent Vice.
Page 209
Black Dahlia
Elizabeth Short Victim of a famous unsolved murder.
Tom Ince
Major film industry figure On November 19, 1924, Ince died, officially of a heart attack suffered while on a weekend boat trip with William Randolph Hearst aboard Hearst's lavish yacht, the Oneida, while attending a cruise in honor of Ince's 42nd birthday. Since then, rumors have circulated that Hearst murdered Ince in a fit of jealousy. The 2001 film The Cat's Meow was inspired by the murder rumors.
Page 211
Evelyn Wood
Developed a system for speed reading. More here.
Fontana
A city in San Bernardino County, roughly 50 miles east of Los Angeles.
Puck's file could be in storage...someplace like Fontana....
Possibly an oblique reference to the 1939 crime novel The Big Sleep. Art Huck's chop shop where Eddie Mars' wife is hiding out is located a mile beyond Realito (Rialto). Fontana is adjacent to Rialto in San Bernadino County.
Page 212
"Chotto, Kenichiro! Dozo, motto panukeiku."
Hey, Ken! Please, more pancakes. (Pannukakku: Finnish Oven Baked Pancake)
man goes around like Prince Charles, like they're going to crown him chief any day
And, of course, it's now nearly 40 years later, and Prince Charles is, as Talking Heads always say, still waiting...
Page 216
Waiting at the office when Doc got back from lunch
afternoon, Tuesday, April 28, 1970.
Trillium
trillium is a genus of about 40-50 species of perennial herbaceous flowering plants.
Page 217
early-music
Usually European music from the Middle Ages to the Renaissance, but sometimes used to include the Baroque as well. Wiki. Being involved in the early music scene during the time frame of the novel meant being a member of the classical music avant-garde.
double-quint pommer
Very low voiced, large instrument that could be almost ten feet long.
sopranino shawm
Small instrument voiced higher than soprano that could be around twenty inches long.
Page 218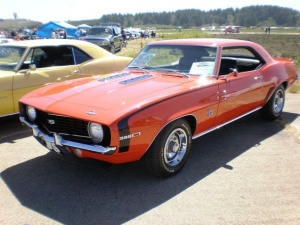 '69 Camaro
a bright red '69 Camaro
Page 219
mug ... intended to keep the mustache of the drinker from getting soaked ... belonged to Marshal Earp
Perhaps only a bizarre coincidence, but a colleague who worked with Pynchon at Boeing in the early '60s, speaking in 1990, described Pynchon as having sported a "kind of Wyatt Earp-type handlebar mustache."
Page 221
They drove toward a spectacular desert sunset
Evening, Tuesday, April 28, 1970.
Page 223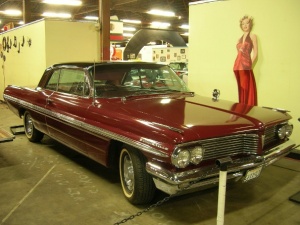 '62 Bonneville
a stolen '62 Bonneville parked in a cul-de-sac off Sunset
"Are you apologizing" "I don't think so."
Reminiscent of Bigfoot on page 35.
Page 225
Ernest Tubb, Jim Reeves, and Webb Pierce
aka, old school country music.
John Garfield John Garfield (March 4, 1913 – May 21, 1952) was an American actor. Garfield was especially adept at playing brooding, rebellious, working-class character roles. [1]
Puck and Einar might not be in tonight.
Evening, Tuesday, April 28, 1970.
Page 226
Meantime there's the rent coming due and so forth.
Plausible enough, as it's Tuesday, April 28, 1970.
Page 228
Wild Bill Hickok's last poker hand
Maybe the most (in)famous hand in poker history. When Hickok was shot dead in 1876, he was playing poker and holding two pair: aces and eights. Since then, that hand has been called "Dead Man's Hand".
Page 232
Next thing he knew it seemed to be early afternoon
Afternoon, Wednesday, April 29, 1970.
As it was getting dark, Trillium finally showed up.
Evening, Wednesday, April 29, 1970.
Page 233
Dietz & Schwartz, Haunted Heart

In the night,

though we're apart

there's a ghost of you

within my haunted heart . . .

Ghost of you,

my last romance,

lips that laughed,

eyes that danced . . .

Haunted heart

won't let me be

dreams repeat a sweet

but lonely song to me . . .

Dreams are dust,

it's you who must

belong to me . . .

and thrill my haunted heart . . .

Be still, my haunted heart . . .

< instrumental break >

Dreams are dust,

it's you who must

belong to me . . .

and thrill my haunted heart . . .

Be still, my haunted heart . . .

--from the musical production Inside U.S.A. Music by Arthur Schwartz with lyrics by Howard Dietz, 1948
Listen to Renee Fleming.