Chapter 18
Please keep these annotations SPOILER-FREE by not revealing information from later pages in the novel.

Page numbers refer to editions with 369 pages, where the story begins on page 1. Not sure if there are other editions with variant pagination. Please let us know otherwise.
Page 315
still another day of classic day of California sunshine
Back into real calendar time, morning, Tuesday, May 5, 1970.
bindlestiffs
Pynchon may just be using the word in with its basic literal meaning (hoboes), but it is also the name ("Bindlestiffs of the Blue A.C.") of a "club of ascensionaries from Oregon," referred to in Against the Day at page 18 and again at page 1083.
Page 316
Carl Yastrzemski
Carl Yastrzemski played for the Boston Red Sox from 1961-1983, and was at the peak of his career between 1967 and 1970, when he was among the most formidable hitters in professional baseball. Like Pynchon, he grew up on Long Island. He was generally admired as a hard-working, unpretentious player.
Page 318
Mike Curb
In addition to contributing the musical score for The Big Bounce and other movies, Mike Curb was the leader of The Mike Curb Congregation, a popular music group with a wholesome, all-American image. The group often appeared on the Glen Campbell Show. He was also a record-company executive and, later, a Republican politician who was elected Lieutenant Governor of California in the late '70s.
The Big Bounce
Is a film adaptation of an Elmore Leonard novel. The score is bouncy and peppy, and entirely out-of-place in the movie, and Doc's opinion regarding it is likely shared by many, if not most, viewers.
amyl nitrate
Should probably be "amyl nitrite," which has a psychoactive effect.
Page 319
he woke up, mercifully not too many hours later
Afternoon, Tuesday, May 5, 1970.
Page 322
your hour is at hand
In Matthew 26:45, Jesus wakes up his disciples and warns them that the "hour is at hand" (i.e., Jesus is about to be arrested).
dropped it inside the forms for a concrete support column about to be poured.
The fate of Adrian's victim bears a resemblance to some of the theories about the 1975 disappearance and presumed murder of Jimmy Hoffa and disposal of his body.Jimmy Hoffa
Page 326
Dagwood and Mr. Dithers, Bugs and Yosemite Sam, Popeye and Bluto
These are all pairs of cartoon characters who are in conflict.
Dagwood butts heads with his controlling boss Mr. Dithers in the comic strip Blondie.
Bugs often has to hide from his nemesis Yosemite Sam in the TV cartoon Bugs Bunny.
Popeye and the brute Bluto fight for the affection of Olive Oyl in the cartoon Popeye.
Page 327
He lit up one of Puck's prison menthols
This is, it seems to me, a very odd time to be having a smoke, with (potentially) match flare and/or tobacco smell announcing his position when he most wants to be invisible.
Some late light off the ocean
Evening, Tuesday May 5, 1970.
Page 328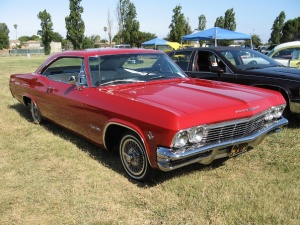 '65 Impala










Page 329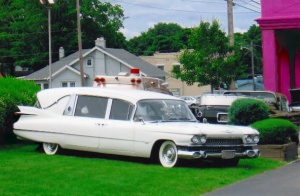 '59 Cadillac hearse
The sun was just down Sunset, Tuesday, May 5, 1970.
Page 332
Herb Alpert arrangement of "Yummy Yummy Yummy"
Thankfully probably a fictional song. Anyone been able to track down a recording? Herb Alpert. "Yummy Yummy Yummy" is covered, starting at 5:24, of the lengthy "Hitler was a Vegetarian" from the Residents' satirical pop album The Third Reich 'n Roll. Not to be missed if you're looking for something to cleanse your palate if you feel like you've listened to just too many of the songs name-checked in the novel, especially since a few of them get worked by the Residents. (By the way, it's part of the soundtrack of Journey into the Mind of P. Pynchon and the Residents can go well together.) Finally, forgive me, for the sake of completeness, the original version.
Page 334
Like a record on a turntable
A metaphor which already appeared on page 262 ("as if some stereo needle had been lifted and set back down on some other sentimental oldie on the compilation LP of history.").
Page 338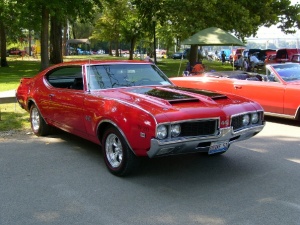 442 Olds
a reasonably dark street
Evening, Tuesday, May 5, 1970.
Page 339
The bars hadn't closed yet
Late night, Tuesday, May 5, 1970.
"'It said on the box it was a television set,' Denis explained."
Bad pun secreted here, one of the most delicious in the book? Stoned Denis and Doc are watching "snow"--slang for heroin and also for a TV "picture" that's not a picture, just black and white fizzy dots (or, in this case, changing light patterns on the plastic wrapping the dope). Two related kinds of addiction and hallucination. An "educational channel" fer sure!
Page 340
Doc had been on the phone...around noon
Midday Wednesday, May 6, 1970.
It was toward sunset
Early evening, May 6, 1970.
Page 341
way, way too chirpy for this time of the morning
The chirp seems to be a Fenway family characteristic, since Japonica is first introduced on page 170 with "a loud, violent chirp."