Chapter 19
Please keep these annotations SPOILER-FREE by not revealing information from later pages in the novel.

Page numbers refer to editions with 369 pages, where the story begins on page 1. Not sure if there are other editions with variant pagination. Please let us know otherwise.
Page 343
The pictorial style reminded Doc of labels on fruit and vegetable crates
Southern California used to be full of fruit/vegetable orchards. And local farms would develop their own crate labels. Here are some examples.
Page 344
St. John's Episcopal Church
Since 2008 referred to as St. John's Cathedral. The reference may seem odd, as the church is now - and was in 1970 - a very liberal one. Of course, Crocker Fenway would have been married there in the 1940s, before its transformation from "an upper-level parish church controlled by businessmen" had occurred.
Page 348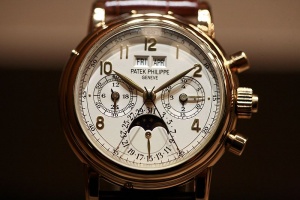 Patek Philippe moonphase
An expensive watch, obviously: characteristics include a high value and a very complex and precise mechanism. Crocker Fenway's watch would, today, fetch a significant price: a 1968 watch (with some unusual characteristics) went for over $183,000 at a Christie's auction in November 2008. Older, and particularly rare, models have sold for over a million dollars.
Page 349
1953 Buick Estate Wagon