Difference between revisions of "Chapter 2"
Line 29:
Line 29:
 

<br>Afternoon, Wednesday, March 25, 1970, the second day of the narrative.<br>

 

<br>Afternoon, Wednesday, March 25, 1970, the second day of the narrative.<br>

 

==Page 24==

 

==Page 24==

 
+
 
+
 
+
 

[[File:68Elcamino.jpg|thumb|150px|right|1968 Chevrolet El Camino]]

 

[[File:68Elcamino.jpg|thumb|150px|right|1968 Chevrolet El Camino]]

 

'''1968 El Camino'''<br />

 

'''1968 El Camino'''<br />
---
Revision as of 23:17, 25 September 2009
Please keep these annotations SPOILER-FREE by not revealing information from later pages in the novel.

Page numbers refer to editions with 369 pages, where the story begins on page 1. Not sure if there are other editions with variant pagination. Please let us know otherwise.
Page 20
desert beneath the pavement
An echo of the epigraph, though in this case the sand beneath the pavement is a desert, rather than a beach.
Kaufman and Broad
In 1957 Donald Kaufman and Eli Broad cofounded Kaufman and Broad Building Company in Detroit, Michigan. In 1963 Kaufman and Broad builds its first homes in California and announces it will establish corporate headquarters in Los Angeles. In 2000 the company changed its name to KB Home. KB Home is the largest home builder in the United States, in terms of units built. Between the 1950s and 1970s, Eli Broad was known as "King of Sprawl." Kaufman and Broad built more suburban homes in this country than anyone before or since. KB Home
Dominguez Flood Control Channel
"The Dominguez Channel extends from the Los Angeles International Airport to the Los Angeles Harbor and drains large if not all portions of the cities of Inglewood, Hawthorne, El Segundo, Gardena, Lawndale, Redondo Beach, Torrance, Carson and Los Angeles." The River Project
Page 22
caused Doc about then to swoon abruptly and lose an unknown amount of his day.
It's still Wednesday, March 25, 1970, the second day of the narrative.
"Congratulations, hippie scum [...] and welcome to a world of inconvenience."
Detective Lieutenant Bigfoot Bjornsen echos Walter Sobchak from the 1998 Coen brothers film The Big Lebowski: "Smokey, my friend, you are entering a world of pain."
30-weight voice
30-weight is shorthand for automobile engine oil.
to gaze tubeward
Which is exactly what the denizens of Channel View Estates would be doing, viewing channels.
Page 23
Doc made out in the afternoon light
Afternoon, Wednesday, March 25, 1970, the second day of the narrative.

Page 24
Forgetful dope fiends should be more cautious about whom they wish to act out their wacko fantasies upon.
Foreshadows Charles Manson who first appears on page 29.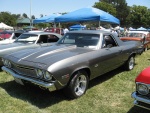 1968 El Camino
The Chevrolet El Camino is a coupe utility vehicle produced by the Chevrolet division of General Motors from 1959 through 1960, with production resuming in 1964 and continuing through 1987. Wikipedia
Page 26
Fatso Judson
Fatso Judson is the sadistic stockade sergeant played by Ernest Borgnine in "From Here To Eternity," a 1953 drama film based on the novel of the same name by James Jones.
It wasn't until the middle of rush hour
Late afternoon, Wednesday, March 25, 1970, the second day of the narrative.

Page 28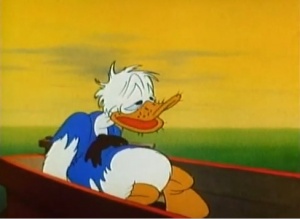 Donald and Goofy [...] in fact he's always had to go in every day and shave his beak.
The cartoon being discussed here is "No Sail" from 1945. Available on Youtube and the Chronological Donald Volume II DVD Amazon.
Page 29
After no more than an hour of this
Early evening Wednesday, March 25, 1970, the second day of the narrative.

Page 30
the local news came on
Early evening Wednesday, March 25, 1970, the second day of the narrative.
the Santa Anas
The Santa Ana winds are strong, hot, dry winds commonly experienced in southern California.
Page 31
intended to give the victim mouth-to-mouth
This car-to-human interaction is similar to a scene in Vineland in which Rex has sex with his Porsche, which also recalls Rachel Owlglass's intimate relationship with her MG in the first chapter of V.
Not the one with the r in it
Benzidine is a chemical used to detect blood. Benzedrine is an amphetamine.
Page 33
huaraches
Huaraches are Mexican sandals often associated with California surf culture. See, for example, the Beach Boys' "Surfin' Safari" (1963): "You'd see 'em wearing their baggies / Huarache sandals too ...."
the satanic Detective . . . everything in it that money could buy
This is a biblical allusion to Matthew, chapter 4, in which Jesus is led to the desert and tempted by the devil: "Again, the devil took him to a very high mountain and showed him all the kingdoms of the world and their splendor. 'All this I will give you,' he said, 'if you will bow down and worship me.'"
Also, similar to how Hector must have worked on Zoyd in Vineland: "Hector had been trying over and over for years to develop him as a resource, and so far — technically — Zoyd had hung on to his virginity... But... He kept coming back, each time with a new and more demented plan..." (p. 12 Vineland)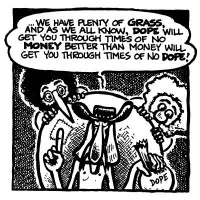 Freak Brothers' dictum
Gilbert Shelton's series of "Underground Comix"—"The Fabulous Furry Freak Brothers"—was one of the most popular "Comix" of its time among fans of the form. Featuring the stoned adventures of Freewheelin' Franklin, Phineas T. Freakears, Fat Freddy Freekowtski and the ever popular Fat Freddy's Cat. Famous for [among other things] Freewheelin' Franklin's dictum: "Dope will get you through times of no money better than money will get you through times of no dope." Wikipedia entry
bricks and bricks of shit stacked to the roof
In Vineland, the police try to frame Zoyd by putting an enormous stash of pot in his house: "the biggest block of pressed marijuana Zoyd had ever seen in his life, too big to have fit through any door yet towering there, mysteriously, a shaggy monolithic slab reaching almost to the ceiling" (pg. 294).
Page 34
At the office next day
Thursday, March 26, 1970, the third day of the narrative.
Sidney Omarr
Sydney Omarr (an apparent spelling mistake on Pynchon's part) was a popular astrologer whose horoscopes were syndicated in many papers, including the LA Times.
Page 36
hizaz kar
Variant spelling of hijaz kar. Dick Dale's famous Misirlou is in fact a Greek tune based on the scale of Makam Hijaz Kar (E-F-G#-A-B-C-D#), and is playable on a single string of a guitar. Misirlou is one of the most famous of "Surf" tunes, thanks in large part to its presence on the Beach Boys album Surfin' USA and its inclusion in the soundtrack of the film Pulp Fiction. Wikipedia; Great 1963 clip of Dick Dale & the Deltones performing "Misirlou" from the 1963 movie A Swingin' Affair (Is that a young Al Franken on bass?)
In the kitchen hung a creeping fig
This highly invasive plant is also mentioned on the first page of Vineland, suggesting creeps and invasions and the like which occur in both novels.
Page 37
kazoo
I may be wrong, but I'm pretty sure that every Pynchon novel has a kazoo. Who can forget Boyd Beaver's All Kazoo Orchestra?
Chantays, the Trashmen, the Halibuts
Three surf bands, two famous, one an anachronism time traveling backwards from the 80's. The Chantays—famous for "Pipeline"—is presented here on the Lawrence Welk show, May 18, 1963. The Immortal Trashmen gave us "Surfin' Bird" and the Halibuts were a 1980s surf-revival group.
Coy and I should've met cute
A "meet cute"is a movie term that describes a contrived, humorous meeting between two possible romantic partners (e.g., a boy and girl bump into each other on the street then fall in love).
Roger Mexico and Jessica Swanlake are described as having had "what Hollywood likes to call a 'cute meet'" on page 39 of Gravity's Rainbow.
Page 38
Charles Manson
The Manson family murders play an important thematic role in this novel. Is it possible that Pynchon timed the release of this novel to coincide with the 40th anniversary of the tragedy (August 1969)?
Page 42
Here I am . . . to save the day!
Amethyst is singing (albeit incorrectly) the theme song of the Mighty Mouse cartoon.
This passage is as significant for what is not on the television as it is for what is on. If Mighty Mouse is on, it's between 4:00 and 4:30 P.M., meaning that Dark Shadows, which shares the time slot on another channel, is not on. Which is not the case at a certain zombie-infested mansion.
Page 43
Later in the afternoon
Afternoon, Thursday, March 26, 1970, the third day of the narrative.
Scott Oof
Doc's cousin and lead guitar in the surf band the Corvairs, Oof also is a character in Pynchon's 1990 novel Vineland, playing essentially the same character:
After a bit, Corvairs lead guitar and vocalist Scott Oof wandered in from the kitchen to join them, leaning on the doorjamb playing with his hair. (p.23)
Scott had been playing with a local group known as the Corvairs, till half of them had decided to join the northward migration of those years to Humboldt, Vineland, and Del Norte.
Pynchon migrated north along with many of the young people he knew from the South Bay to Humboldt county. /CW/ This passage reinforces the connection between Inherent Vice and Vineland. So Oof had remained in Southern California, while half the band migrated north to Vineland.
Oof's name also opens a rabbithole to the comic genius of P.G. Wodehouse. "Oofy" Prosser is a frequent co-conspirator in the Wooster-Jeeves comedies. "Oof" is also 20th C. British slang for moolah, pelf, wealth, geedis.
Note that many different surf music groups in many different times and places adopted "The Corvairs" as a nom-de-band.
The Big Valley
The Big Valley is an American television Western which ran on ABC from September 15, 1965 to May 19, 1969, starring Barbara Stanwyck, as a California widowed mother. Wikipedia As a major-league movie star during the golden age of Noir, Barbara Stanwyck co-starred with Fred MacMurray and Edward G. Robinson in Billy Wilder's classic: "Double Indemnity",Wikipedia scripted by Raymond Chandler.
This song from Scott Oof's band Beer points towards the San Joaquin Valley, which in 1970 was about the un-hippest place in the known universe.