Chapter 2
Please keep these annotations SPOILER-FREE by not revealing information from later pages in the novel.

Page numbers refer to editions with 369 pages, where the story begins on page 1. Not sure if there are other editions with variant pagination. Please let us know otherwise.
Page 20
Dominguez Flood Control Channel
"The Dominguez Channel extends from the Los Angeles International Airport to the Los Angeles Harbor and drains large if not all portions of the cities of Inglewood, Hawthorne, El Segundo, Gardena, Lawndale, Redondo Beach, Torrance, Carson and Los Angeles." The River Project
Page 22
"Congratulations, hippie scum" Bigfoot greeted Doc in his all-too-familiar 30-weight voice, "and welcome to a world of inconvenience."
Detective Lieutenant Bigfoot Bjornsen echos Walter Sobchak from "The Big Lebowski."—"Smokey, my friend, you are entering a world of pain."
Page 24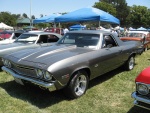 1968 El Camino
The Chevrolet El Camino is a coupe utility vehicle produced by the Chevrolet division of General Motors from 1959 through 1960, with production resuming in 1964 and continuing through 1987. Wikipedia
Page 26
Fatso Judson
Fatso Judson is the sadistic stockade sergeant played by Ernest Borgnine in "From Here To Eternity," a 1953 drama film based on the novel of the same name by James Jones.
Page 28

Donald and Goofy [...] in fact he's always had to go in every day and shave his beak.
The cartoon being discussed here is "No Sail" from 1945. Available on Youtube and the Chronological Donald Volume II DVD Amazon.
Page 33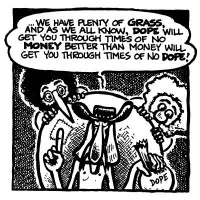 Freak Brothers' dictum
Gilbert Shelton's series of "Underground Comix"—"The Fabulous Furry Freak Brothers"—was one of the most popular "Comix" of its time among fans of the form. Featuring the stoned adventures of Freewheelin' Franklin, Phineas T. Freakears, Fat Freddy Freekowtski and the ever popular Fat Freddy's Cat. Famous for [among other things] Freewheelin' Franklin's dictum: "Dope will get you through times of no money better than money will get you through times of no dope." Wikipedia entry
Page 36
hizaz kar
Variant spelling of hijaz kar. Dick Dale's famous Misirlou is in fact a Greek tune based on the scale of Makam Hijaz Kar (E-F-G#-A-B-C-D#), and is playable on a single string of a guitar. Misirlou is one of the most famous of "Surf" tunes, thanks in large part to its presence on the Beach Boys album Surfin' USA and its inclusion in the soundtrack of the film Pulp Fiction. Wikipedia; Great 1963 clip of Dick Dale & the Deltones performing "Misirlou" from the 1963 movie A Swingin' Affair (Is that a young Al Franken on bass?)
In the kitchen hung a creeping fig
This highly invasive plant is also mentioned on the first page of Vineland, suggesting creeps and invasions and the like which occur in both novels.